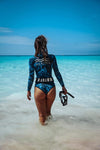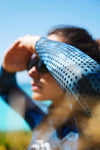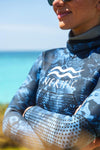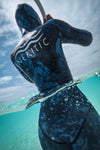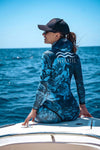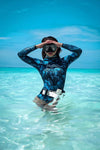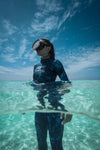 Women's 3mm Titanium-Lined Blue Camo Wetsuit
Sale price
$ 330.00
Regular price
Shipping calculated at checkout.
Introducing our new Titanium-Lined 3mm Blue Camouflage wetsuit

Specifically designed for those who demand both comfort and durability in their aquatic adventures. This wetsuit is made of high-quality Yamamoto neoprene and features a stunning blue camouflage design that blends seamlessly with the ocean environment.

Being 3mm it provides just the right amount of thermal protection for moderate water temperatures.
The inside

 

Titanium-Lining

 

enhances its insulating properties and helps to keep you warm and comfortable while diving. The titanium lining also

 

ensures that the wetsuit dries quickly and stays odor-free.
Design is tailored to the needs of spearfisherwomen.
Anatomical cut and pre-formed shape allow for greater freedom of movement, making it easier to swim and maneuver underwater.
Features

 

reinforced knee pads, chest loading pad, and a 7"x 3" leg pocket as well as providing additional protection and durability in high-wear areas.
Smaller Chest Pad for peak inhalation when reaching new depths
"Neritic" logo on hood, chest, and upper back
High-waisted pants with beaver tail buckle 
This is the perfect wetsuit for spearfishing enthusiasts looking for a durable, high-performance wetsuit that will keep them comfortable and protected in the water. Order now and experience the best in underwater comfort and performance!